Freshness, aroma, taste
Combination Ovens and Steamers in professional kitchens are high-investment, high-performance appliances that are used daily. Not only do they have to pay for themselves, they ultimately have to be profitable as well. They must run reliably on a daily basis. At the end of the day, every machine failure costs money.
However also limescale can cause problems, as it can form inside the oven, as well as on heating rods and sensitive machine components.
This causes the machine to wear much more quickly. Baking and cooking programmes can no longer run as planned, The oven must be cleaned extensively. More energy is required to reach the required temperatures.
Not all water is the same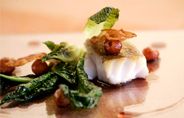 A low concentration of minerals in water is advantageous for both appliances and food. Only then is it possible to produce dishes with inherent natural freshness and aromatic taste. They look appetising and scrumptious, and baked products turn out crispy and shiny.