Gleaming dishes, machines and cutomers
The path to brilliant results begins well before the dishwasher is even switched on. If the dishwashing water has the ideal composition for this application, you can save a great deal of time and money.
Minerals that can lead to deposits when combined with hot water are generally responsible for machine failure or damage and for marks and streaks on the dishes. They also cause glass and fine china to look dull and unsightly, literally rubbing down patterns.
And if limescale builds up on machine components, the machine suffers damage too. This means that increased amounts of detergent and rinse aid are required, and ultimately the machine uses more energy.
Not all water is the same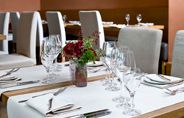 Water quality is a decisive factor for perfect dishwashing. Water used for washing dishes should
have the minerals and salts that form limescale filtered out. This reduces the use of cleaning agents, and wear and tear of the machines is slowed down while optimal capacity is ensured.