Quality at the touch of a button
Quality hot and cold drinks from vending machines are part of our everyday life. Offering a diverse range in this area means huge expense for the operator in terms of travel time and personnel to fill and service the machines.
As beverages and soups from vending machines consist of up to 98% water, the water quality is a key factor. Not fulfilling the requirements for vending drinks due to regional particularities has a detrimental effect on the products and machines.
Extremely hard water containing limescale, for example, can make coffee taste bitter or even sour. And the higher the proportion of lime in the water, the faster the limescale builds up in the machine. This can lead to enormous additional costs, as the wear on the machine is increased and more energy is used unnecessarily.
Water—the prerequisite for enjoyment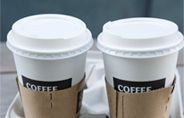 Ideal coffee water is fresh and pure in taste and has no discernible odour. It should be mineral-rich, with a balanced mineral content. A total hardness of 7–12° EH, a carbonate hardness of 3–4° EH and a pH value of 6.5–7.5 are ideal (Source: Deutscher Kaffeeverband). Only then can coffee develop its full aromatic flavour, while tea has the perfect colour without a film or deposits on the rim of the cup.
Deutscher Kaffeeverband (German Coffee Association)