Freshness in a glass
Nothing tastes better than clear, cool water. This is why we often see so-called point-of-use water coolers today in many public locations that have simply been connected to the water mains. Water can have different tastes or appearances, depending on the local conditions (e.g. due to chlorine).
Fresh water for pure enjoyment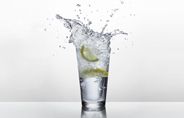 Processing of untreated water plays a decisive role for cold drink dispensers. Unwanted tastes and odours should be removed in the same way as are tiny particles. This results in cool, crystal clear and refreshing water.